"Queensland Fills You Up!" Max (12) tells Cr Cheryl Gaedtke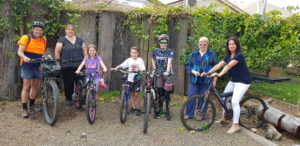 After attending the Brisbane Valley Heritage Trail committee meeting held at the Yarraman Heritage Centre, on Thursday 5th July, Cr Cheryl Gaedtke called in to have lunch at the Bunya Nut Café at Blackbutt.  It was here that a hungry family was enjoying their lunch and it was obvious that the family were enjoying some special school holiday activities.
Photo : The Richards family.  Tony, Silvia, Samantha, Chris & Max. Iris Crumpton & Cheryl Gaedtke
The family were holidaying in Queensland and came specifically to our part of the state to ride the Brisbane Valley Rail Trail.  Dad, Tony Richards was born in Esk 51 years ago and now resides in Warragul, Victoria with his wife Silvia, son Max (12) and twins Chris and Samantha (9).  The family rode from Esk to Fernvale the previous day and had a great time.  After travelling by car to Yarraman, the family have plans to ride from Yarraman through to Esk.  If necessary the support crew of Mum, Silvia will pick up the twins at Moore, whilst Dad and Max attempt to travel through to Esk.
Cr Gaedtke asked Tony "What was the best part of the trail so far?"  Tony was quick to answer "the best part is the small country towns with their unique characters and whom they have met, great food and the spots to visit along the trail.  Max has his own philosophy about his experience so far and was eager to share that "Queensland Fills You Up!".
Warragul, Victoria has a population of 14276 (2016 census) and is an Aboriginal word meaning Wild Dog and is located 102 kilometres east-southeast of Melbourne.