Somerset Region – Facts and Information
Are you aware of Somerset Regional Council's Mission Statement?
We, in partnership with the community, will realise our vision by:
Focusing on our customer's needs
Planning for the future
Utilising resources efficiently and effectively
Using sound business practices
Utilising the practice of continuous improvement
The above mission statement has been developed to assist Somerset Regional Council to service its community in a responsive, innovative and efficient manner – exercising leadership and builds community strength. Through a variety of council services, Council feels it can deliver on these promises.
Census Statistics
The last Census stats are 2016. https://www.abs.gov.au/websitedbs/censushome.nsf/home/2016
Better Councils Better Communities
Efficient, productive and innovative councils for Queensland.
Click here to view the Community's View.
Click here to view the FAQ on Better Councils Better Communities.
Statewide survey gives the tick of approval to local councils
Queensland councils have won a tick of approval from their communities, according to a comprehensive survey commissioned by the Local Government Association of Queensland.
The 2017 Fred Rogers Community Satisfaction Tracking Study showed that local councils were performing particularly well in key service areas such as maintenance of parks and gardens, libraries and other aspects of community lifestyles.
The survey, conducted every two years, found that overall satisfaction in the job that councils do stood at 69.4 percent, compared with a rating of 70 percent two years ago.
LGAQ chief executive Greg Hallam said the survey results showed a healthy public regard for the local government sector despite some recent controversies.
"These results show the community is a great arbiter of who's fair dinkum and who's not,'' he said.
"To record a consistently high satisfaction rating suggests that the public realise most of the people who work for the local council are fair dinkum about looking after the community.''
The results suggest councils perform best in the public's view on services to do with activities such as parks and garden maintenance, sporting facilities and heritage protection.
But the survey suggests, as it has in previous years, that councils need to do more work on customer service and communicating with the public.
The 2017 Community Satisfaction Tracking Study, conducted by Morton Consulting Services and Market Facts, canvassed the opinions of 700 households across Queensland.
The independent survey is the 11th in a series that analyses community satisfaction and determines benchmarks for council performance.
The survey results can be seen here:   https://www.lgaq.asn.au/documents/10136/d7e3271c-64df-4dbd-8c90-1cb9bb29c4fa
2019 results and associated press release made by LGAQ: Click here
2020 Press Release: Click here
Local Government Association of Queensland
LG House, 25 Evelyn Street, Newstead Qld 4006
Role of Mayor and Councillors
The link below outlines the role and responsibility of a Councillor.
https://www.forgov.qld.gov.au/find-out-about-roles-and-responsibilities
Australian Local Government Women's Association – (ALGWA)
Presidents message from the ALGWA which outlines the current gender percentages in local government and the implementation of the 50:50 Vision – Councils for Gender Equity Program.
Click here to visit the ALGWA website.
Somerset Regional Council Website
Somerset Regional Council – 2016 – 2020
Taking my Statutory Oath-13 April 2016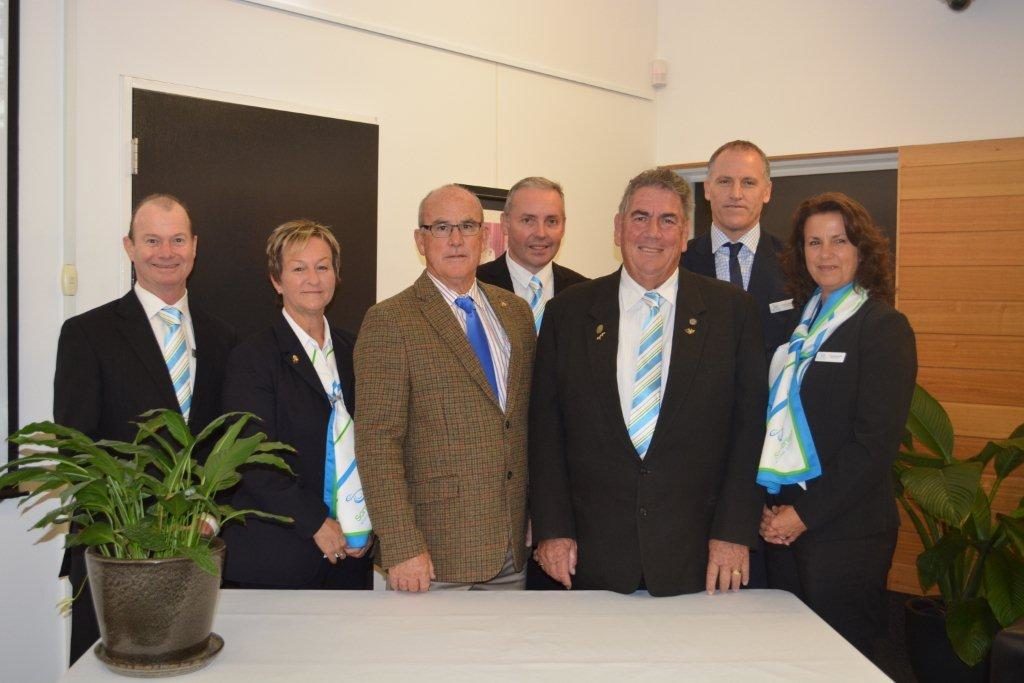 Cr Otis Ogg, Cr Helen Brieschke, Deputy Mayor Cr Dan Hall, Cr Sean Choat, Mayor Graeme Lehmann, Cr Bob Whalley and Cr Cheryl Gaedtke
                 Somerset Regional Council
 2020 – 2024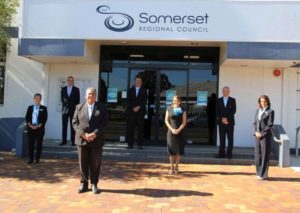 Front row – Cr Helen Brieschke, Mayor Lehmann, Cr Kylee Isidro, Cr Cheryl Gaedtke and Back row – Cr Bob Whalley, Cr Jason Wendt, Cr Sean Choat
Presentation of my Councillor Oath by our CEO Mr Andrew Johnson on Thursday 16 April 2020.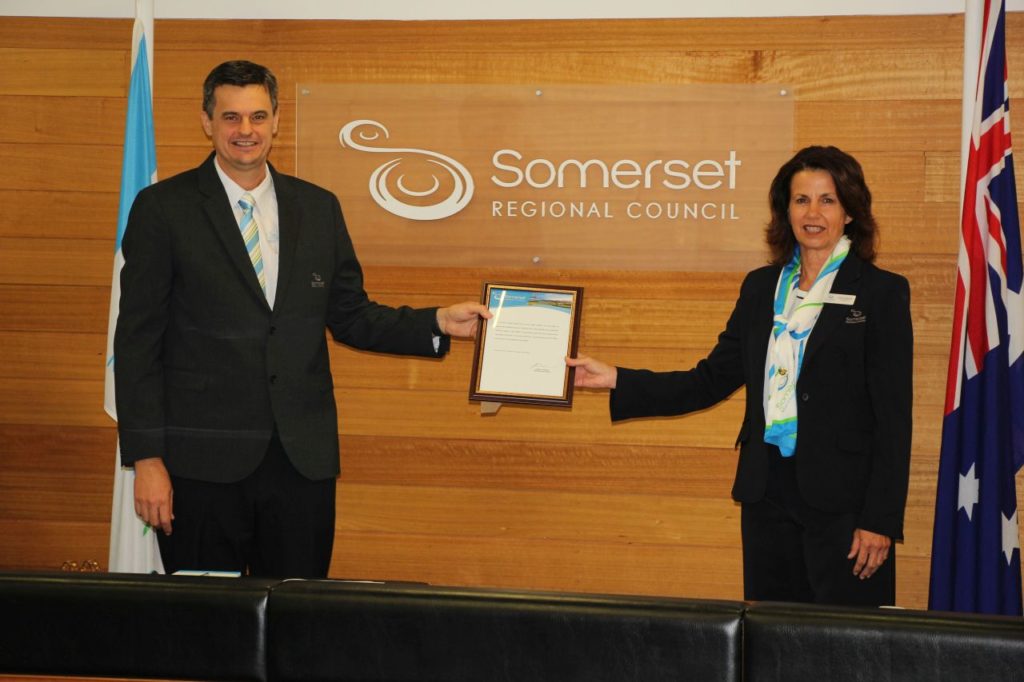 Reading and making my Councillor Oath