Cr Cheryl Gaedtke Press Release – 21 June 2018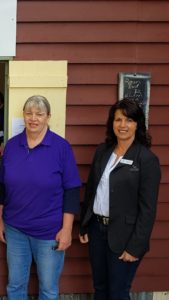 Councillor Cheryl Gaedtke attends regional events with a smile and long chats
As I am typing this article, I look outside to watch the trees bending and the cold westerlies unrelenting. I can only count our blessings that the weather was much kinder over the weekend of 15th, 16th and 17th June. Our region held multiply events, from the Lowood Show occurring on Friday and Saturday in the south, to the official opening of the Hole In The Wall Café at Jimna on Sunday in the north. The beautiful and well-equipped Kilcoy Information Centre's theatre was the venue to watch "Guardians of the Galaxy (Vol.2)" on Friday night, and the concert "Wonder in Aliceland" provided by the talented Toogoolawah High School students, teachers and helpers was held in the Alexandra Hall. For the third time running, the Esk Garden & Lifestyle Fair was completely buzzing with great plants, food, entertainment and specials. There were many buses of happy guests and customers wearing huge grins. There was also a practice Park Run at Cormorant Bay and the Kilcoy Motorcross Club had a very successful practice day over the weekend.
The crazy bunch from the Moore Soldiers Memorial Hall held their Moore Hall Markets with a twist, on Saturday – it was a Pajama Party, and by the looks of the photos everyone had a completely fun time not having to change from their PJ's prior to visiting the morning winter markets. The Kilcoy Cup which was also held on Saturday recorded a huge number of spectators who were totally caught up with all the thoroughbred racing, harness racing and fashions of the field. I received a call from Pauline Watson from Vernor near Fernvale advising that she was ecstatic due to the fact that after holding her third Biggest Morning Tea to help beat cancer, she raised $2085.20 on Sunday.
Somerset Regional Council is an undivided council comprising seven Councillors (including our Mayor) so if you would like us to come along to your event, please email every Councillor with an invitation. With over 5,000 square kilometres and so many events it can be difficult at times to keep up with all that is happening in our wonderful region.
Photo – Hole In The Wall Café Official Opening Jimna
Linda Christensen – Secretary Jimna Community Development Ass Inc.